Poor Barry just can't take it....
He can't handle criticism or anyone "Joking" around about him: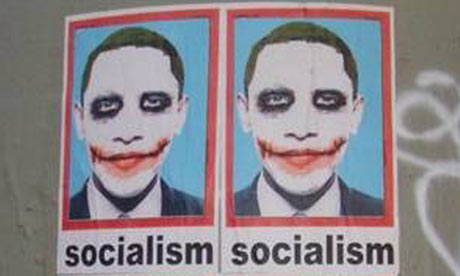 "A Florida teenager could find himself in a sticky situation as a state attorney prepares to review possible felony vandalism charges in connection to the posters depicting President Obama as the Joker, FOXNews.com has learned.
Clermont, Fla., Police Capt. Eric Jensen said the state attorney will review evidence to determine whether to charge the unidentified teenager with gluing "dozens" of the posters last week to the city's light poles, public and private buildings, bridge overpasses, road signs and a mailbox.
Jensen said damage to city property exceeded $800, and it cost roughly $200 to remove the adhesive that was used to affix the poster to the mailbox.
If convicted of felony vandalism, the teenager could face a maximum of five years in jail. No arrests have been made yet in the case.
Bill Gladson, of Florida's Fifth Judicial Circuit, which oversees Lake County, confirmed that State Attorney Brad King will receive the case as early as Wednesday.
Gladson said he could not recall a recent case involving potential charges of felony vandalism in regard to posters, including those pertaining to political messages.
Felony vandalism??
Obama/aka.Soetoro not only wants to CENSOR and squelch the teen, he wants him in JAIL.
Barry can't handle anyone who makes fun of him or DISAGREES with him.
WHY??
Because Barry has Narcissistic Personality Disorder:
Yes,Obama/aka.Soetoro has pussy narcissitic personality disorder:
"a pervasive pattern of grandiosity, need for admiration, and a lack of empathy."[1]
The narcissist is described as turning inward for gratification rather than depending on others and as being excessively preoccupied with issues of personal adequacy, power, and prestige.[2] Narcissistic personality disorder is closely linked to self-centeredness. It is also colloquially referred to as "the God complex."
Obviously, a President with a personality like Barry's is dangerous and dictatorial.
Congress must INVESTIGATE Obama/aka.Soetoro before he and his Chicago socialistic goons destroy our country.
IMPEACH HIM.
Get rid of him and the A.C.O.R.N.s he rode in on.