Philadelphia police launched a historical manhunt for a gunman who shot a police officer yesterday in a Dunkin' Doughnuts.
It's the third police shooting in a week. His killer was found dead in the water: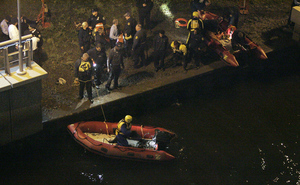 "The third shooting of a Philadelphia police officer this week sent the force on one of the largest citywide manhunts in recent history yesterday. Officers from across the city searched for the gunman who shot and critically injured Philadelphia Police Officer Charles Cassidy, 54, when Cassidy walked into a robbery-in-progress at a Dunkin Donuts on the 6600 block of N. Broad Street at about 10:30 a.m. yesterday.
Penn Vice President for Public Safety Maureen Rush said the shooting occurred too far from campus for Penn Police to take an active role in the search but said Division of Public Safety officials would learn from La Salle's response to the incident.
The shootings "paint a picture of the total disregard for human life and authority," Rush said. "The bottom line is, there's a lot wrong when individuals in a society feel that it is OK to point-blank try to assassinate police officers that are trying to protect the community."
It's not just police officers that are being executed.
What about Kayla Fanaei?
Have police launched a massive manhunt for her killer?
EVERYONE is being targeted...even PREGNANT women:
"Police today were searching for suspected gang members who opened fire in Chicago's Back of the Yards neighborhood on Halloween night, killing a pregnant woman who was returning from trick-or-treating with her three children. No one was in custody for the shooting, which occurred shortly before 6 p.m. Wednesday in the 4800 block of South Seeley Avenue, an area known for gang activity, police said this morning. The victim, Leticia Barrera, 38, had just returned to her home with her three children, ages 2, 5 and 7, and was standing out front when shots rang out from about a half a block away, police said. She was hit in the head by gunfire but was not the intended target, according to police. The children were not hurt."
HOW can law enforcement be SO SURE that this poor pregnant woman was NOT the intended target? She was shot right in the head.
Have police launched a massive manhunt for her killer?
Once police announce a shooting is gang related, the pressure is off....it's a chaotic catch-all term that now means NOTHING of great effort will be employed in finding the gunman.
I am sorry police officers are being shot in Philly, but other people are being executed also and they deserve to have massive manhunts for their assassins also.